UF-0103
Ultrasonic Polishing Machine ULTRAFORM UF-0103

Ultrasonic polishing machine ULTRAFORM UF-0103 is the improved and grade-up Model against our former model (UF-5600). In a word, UF-0103 is very powerful. As the main features, if you operate it, You can feel the powerful DC motor hand piece, Amazing torque output, very strong ultrasonic function and aggressive polishing power. Maximum output power is 100W and you can experience a stronger torque output than the rating values.
On the other hand, the ultra-fine polishing and the precise delicate work can be made comfortably. The delicate polishing work that was possible only by hand work can be very easily done with UF-0103.
Check the performance.
DC Motor Rotary hand piece and Ultrasonic hand piece
Both DC Motor rotary handpieces and ultrasonic handpieces are included as standard accessories. You can enjoy the incredible torque output, amazing polishing and aggressive grinding power as you like.
DC motor Rotary hand piece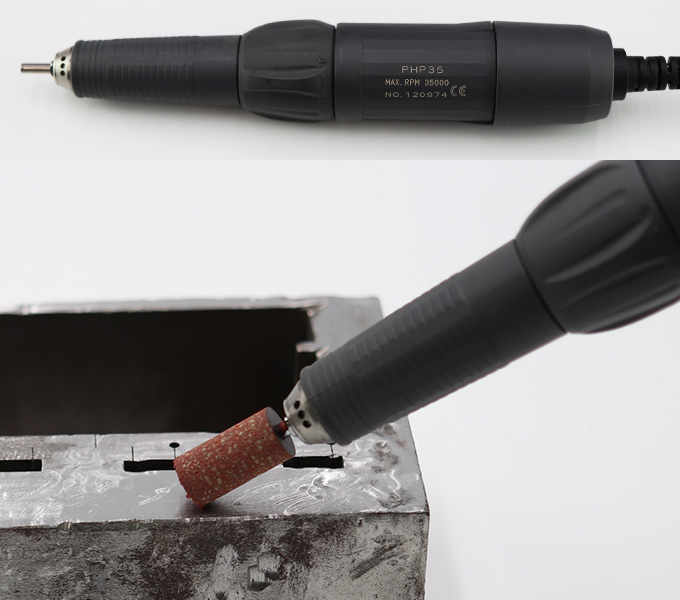 Ultrasonic hand piece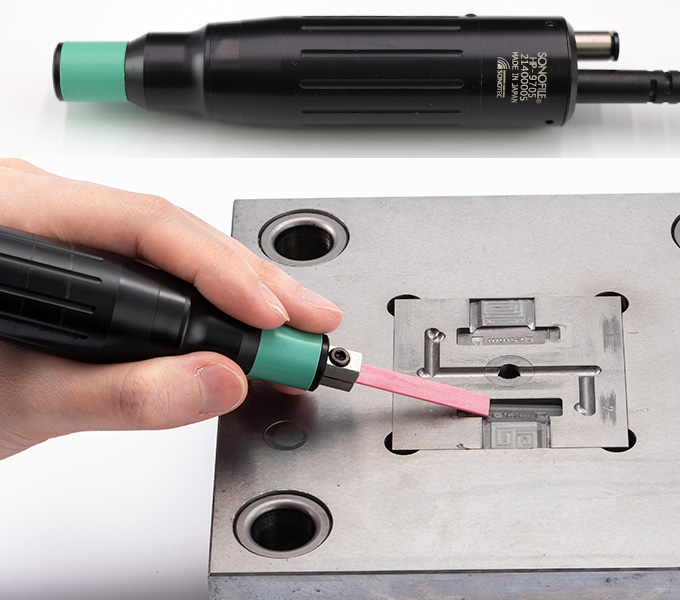 TOUCH function
When the tip tool touches the work material and the machining pressure (load) is detected, it oscillates after a few msec. The oscillation stops after a few millisecond when the tip tool is away from the work material. This function protects the work material from the risk of false oscillation.

NANO function
The amplitude output value (A) can be switched to ultra-fine vibration of 1μm or less. It is effective in the case that normal ultrasonic vibration is too strong or in the finishing process.
When used in combination with diamond paste, it can also be used on the finished surface of plastic mold products.

Auto-Cruise function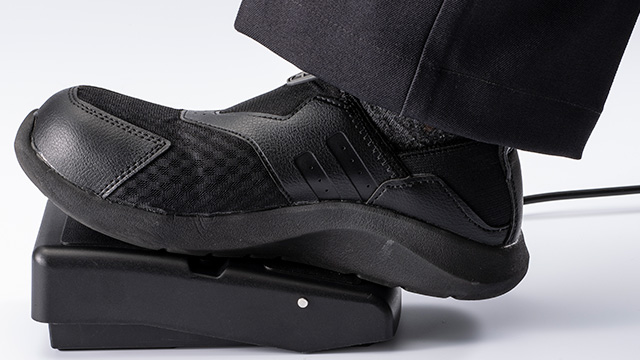 Auto-Cruise function constantly controls the rotation speed of DC Motor hand piece in the use of VC90 to reduce the burden on your feet. 
Large-sized Ultrasonic handpiece UF-7405 (Option)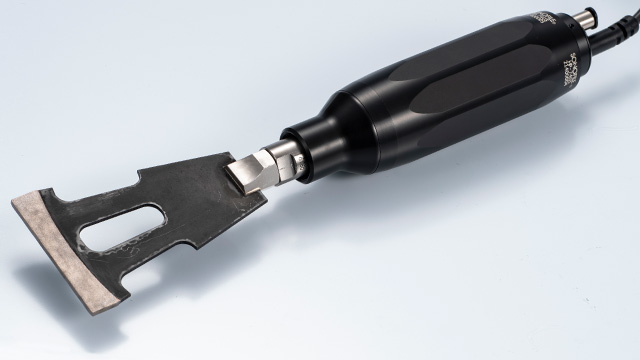 We are preparing the large-sized Ultrasonic handpiece UF-7405 as the optional item. If you connect this large-sized hand piece UF-7405 with the Controller (Oscillator), you can use the Integrated Wide-Width M8 tool stably and it can smoothly remove the machined deformation layer (altered layer) due to EDM in the large-sized mold and die.
User-friendly LCD Windows
The operation settings and work status are displayed on LCD Windows in real time. 

Collapsible Stand on the bottom of the Controller (Oscillator)
This Collapsible Stand can be folded and adjust the height of the machine. Depending on the situation, it may be difficult to see the LCD Windows then you can adjust the height of Controller.

UF-0103

UF-0103 Standard Set

UF-0103 Standard Set consists of

Oscillator (Controller)

UF-0103

Ultrasonic hand piece

UF-9705

DC Motor Rotary handpiece

PHP35

Standard tools and accessories

Power cord

Tool box

Specifications:
Oscillator
UF-0103
Oscillator Body color
Black color
Power Supply
Single phase AC100-120V / AC200-240V / 50/60Hz
Power consumption
300VA
Max. Output Power
100W
Frequency
17.0 – 31.0kHz
Automatic feedback system
〇
Amplitude adjustment
99 steps (ultrasonic) / 30 steps (DC Motor)
Applicable standard
CE, UKCE Certification
Oscillator dimension (mm)
180(W) × 252(D) × 215(H)
Oscillator weight
5.3kg
UF-9705

Small-sized Ultrasonic hand piece (Transducer)

Transducer

B.L.T. electro-strictive

Cable length

1.7M

Screw thread

M6 (with M6-M4 adaptor)

Dimension (mm)

28φ x 128.5(L)

Weight

150g (Cord is not included)
PHP35

DC Motor Rotary hand piece (35,000 rpm)

Rotation speed

0 – 35,000rpm

Maximum torque output

6.5Ncm

Motor cord length

1.5M (Curl type)

Dimension (mm)

φ26 x 150(L)

Weight

200g (Cord is not included)
UF-7405 (Option)

Large-sized Ultrasonic handpiece (Transducer)

Transducer

B.L.T. electro-strictive

Cable length

1.7M

Screw thread

M8

Dimension (mm)

40φ x 150.0(L)

Weight

310g (Cord is not included)
UF-0103

Controller (Oscillator)

Oscillator Body color

Black

Power Supply

Single phase AC100-120V / AC200-240V / 50/60Hz

Power consumption

300VA

Max. Output Power

100W

Frequency

17.0 – 31.0kHz Automatic feedback system

Amplitude adjustment

99 steps (Ultrasonic) / 30 steps (DC Motor)

Dimension (mm)

180(W) × 252(D) × 215(H)

Weight

5.3kg
Standard attachment tools(for UF-9705)

1) SE-5845 Diamond file
2) SE-9801 Diamond file
3) SE-7841 Diamond file
4) SE-6803 Diamond file
5) SE-3803 Diamond file
6) SD-1802 Diamond stone
7) SD-4862 Diamond stone
8) MD-8862-C1 Diamond file
9) SE-8851 Diamond file
10) NSP106F(#600) Ceramic stone
11) NSB106F(#800) Ceramic stone
12) NSPD3F(#600) Ceramic stone
13) NSBD3F(#800) Ceramic stone
14) MX-4010 Tool clamps
15) MX-1030 Tool clamps
16) UF-7302 Spanner Wrench (M8)
17) UF-7305 Spanner Wrench (M10)
18) UF-7003 Clamp horn key M3

Standard attachment tools (for UF-7405)

1) LD-0762 Diamond stone
2) LD-0721 Diamond stone
3) NSP212F(#600) Ceramic stone
4) NSB212F(#800) Ceramic stone
5) LX-4020-1 Tool clamps
6) UF-7307 Spanner Wrench (M12)
7) UF-7014 Spanner Wrench (M14)
8) UF-7005 Hexagonal wrench (M4)
9) UF-7015 Tool extractor (M10/M13)

On / Off Foot Switch 7116 (Option)

Variable Foot Controller VC90 (Option)