ARGOTRON SERIES
Mould Welder ARGOTRON Series
Argotron series are the resistance-type micro welder which effectively build up the metal material to repair or redesign molds and dies.

The resistance welding method for Argotron series creates high energy discharges in very short cycles through a capacitance circuit. No heat is created and, therefore, the base mold material is not altered or damaged.

Applications

-Welding can be made to steel molds and dies for plastics, rubber, die casting, compression molds.

-Welds can be applied on as-rolled steel, pre hardened steel, quenched and tempered steel, free cutting steel, stainless steel and others.

-Building up of parting lines, mold seams, 3-point corners and edges.

-Filling in pores, repair of pinholes.

-Repairing wear, worn areas on slides, ejector pins, sharp edge molds, thin core parts.

-Modification of inserts and cores.

-Adding a radius to an inner corner due to a design change.

-Repairing the shrinkage that occurs after argon arc and TIG welding.

-Repairing damage due to over grinding, from an end mill or EDM / wire cutting.

Argotron 60
Argotron 120
APPLICATIONS
Welding repairs without heat or damage to surrounding surfaces to plastic, rubber, die casting and compression moulds.
Building up of parting lines, mold seams, 3-point corners and edges.
Filling in pores, repair of pinholes
Repairing of worn slides, ejection pins, cores and mould parting lines by metal build-up with ARGOTRON 350.
Modification of inserts and cores.
Adding a radius to an inner corner due to a design change.
SPECIFICATIONS : ARGOTRON 60
Input Voltage
AC100V, 120V, 230V, 240V, 50 – 60 Hz
Consumable Power
600 VA
Control System
SCR Switching System
Auto Timer On
0.5sec
Output Power
700 W
Output Voltage
0 – 9 V (Peak value)
Output Current
0 – 1100 A (Peak value)
Auto Function
Current discharge control for tack or continuous welding
Weight
28 kgs
Dimension
W165 x D450 x H405 (mm)
STANDARD ACCESSORIES
POWER PACK
P-501
Electrode holder cord – 1 PC.
P-502
Earth cord with copper plate – 1 PC.
P-505
or 521 Power cord – 1 PC.
P-506
Foot switch – 1 PC.
P-510
Tool box – 1 PC.
P-511
Scissors – 1 PC.
P-512
Screw and wrench set – 1 Set.
P-515
Replacement fuse, 2A – 1 Set.
P-522
Tape (for masking) – 1 Roll.
P-523
Safety goggles – 1 PC.
P-524
Gloves – 1 Set (a pair)
Welding material
MA-50, NTA1, 0.1T – 10 PCS.
MA-51, NTA2, 0.2T – 10 PCS.
MD-600, NAK80, 0.1T – 10 PCS.
MP-66, N51, Powder – 50 GM.
MP-70, N80, Powder – 50 GM.

Power

Sheet

Strip

Wire (Option)
( A Holder + an Electrode or a Collet inserted = Set )
H-307 Electrode holder 3S (Brown) 1 PC. + EM-R2 Magnetic electrode (2mm Dia.x 50L) 1 PC.
H-303 Electrode holder 4 (Brown) 1 PC. + EM-R4 Magnetic electrode (4mm Diax 60L) 1 PC.
H-306 Electrode holder 2S (Black) 1 PC. + E-R22 Standard electrode (2mm Dia x 50L) 1 PC.
H-307 Electrode holder 3S (Black) 1 PC. + E-R33 Standard electrode (3mm Dia x 50L) 1 PC.
H-303 Electrode holder 4 (Black) 1 PC. + E-R44 Standard electrode (4mm Dia x 50L) 1 PC.
H-304 Electrode holder 5 (Black) 1 PC. + A-403 Insert collet 1.2T 1PC. + E-205 Flat electrode (1.2t x 5w x 35L) 1 PC.
EM-R3 Magnetic electrode (3mm Dia x 50L) 1 PC.
EM-212 Magnetic electrode (4mm Dia x 50L) 1 PC.
Precision Mould Repairs made easy with ARGOTRON MOULD WELDER
Perform high-quality repairs to very small mould areas.
Increase the life of a mould after a repair.
Reduce repair costs by up to 85% with special metal alloys developed for all conventional types of steel.
Modern control electronics ensure homogeneous welding pattern even under the most difficult working conditions.
ADVANTAGES
The process emits almost no heat.
Mould repairs can be done without removing the die from the press thus saving time.
Hardening and plating can be done after welding.
Only gentle pressure is required on welding electrodes to produce zero pin hole or cavities.
Magnetic electrodes enable accurate placement of powdered metal on the repair position.
Suitable for all forms of mould damage. No need for other types of welding, e.g. argon, laser welding.
Safe and easy to operate, no special training necessary.
No harmful welding fumes or toxic gases are emitted.
The Argotron range of welding alloys are free of impurities which result in a weld which is strong and reliable.
THE MICRO-WELDING METHOD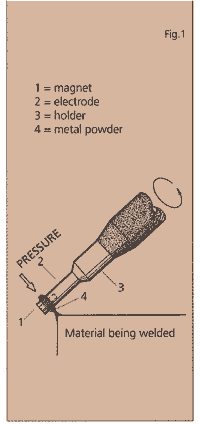 Using only gentle pressure ARGOTRON uses electrical pulses to fuse metal plates, strips, powder or wire to the contour of the mould under repair (Fig. 1). A magnetic electrode for easy use of metal plates,, strips and powder,, containing alloying properties of the material being welded, are first fused then bonded to the base metal by a systematic and controlled supply of energy.
This produces a weld (Figs. 2 and 3) which also can be controlled by various adjustments of the power pack (frequency of the electrical pulses, output current).
Example of the weld by Precision Function is shown in Fig. 4 and 5.
Special training is not needed to carry out this welding process.