Workfinisher
Ceramic Deburring Tool Series
Workfinisher WF-1540 & WF-620
The blade of Work finisher is made of Zirconia ceramic which has the second highest hardness after diamond. Therefore, Workfinisher is the ideal product for deburring the molded parts made of the hard plastics containing talc, carbon fiber and glass filled resin.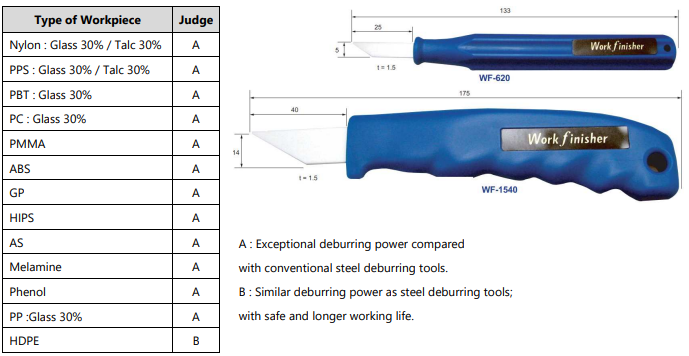 Furthermore, it is suitable for deburring and chamfering non-ferrous metal such as the copper, aluminum and brass. As the advantage, it is Rust less, Wear resistance, Non-magnetic, Chemical resistance and Very safe No sharp edge.

Micro finish MF400
This is the Precision Ceramic Blade Deburring Hand Tools and It is suitable for deburring the thin walled part and fine burrs without the fear of cutting your hand or fingers in the process. It is ideal for curved and complicated shapes, excels on ultra hard resins like glass-fiber carbon fiber and talc filled plastics.
eco finish EF1200
This is Snap-Off Ceramic Blade Deburring Tool and you can use it for a long time because even if the ceramic blade is worn down, you can use it continuously by breaking each blade along the groove on the ceramic blade. So you can use it like the utility knife or box cutter but very safe.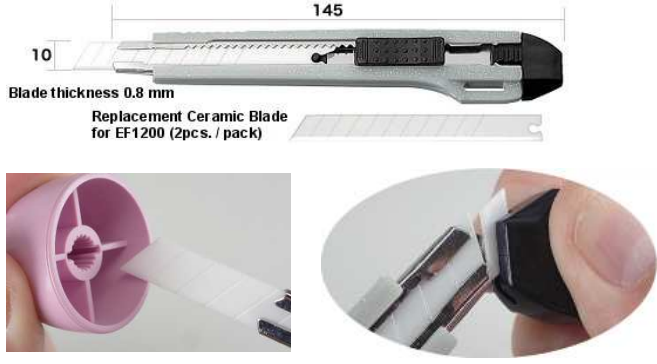 You can use this for deburring fine burrs and chamfering the plastic molding, aluminum, copper and brass products.